アクションリサーチとは What's Action Research?
Action research is a way of steadily improving your own teaching practices through an on-going process of reflection and experimentation. It is a reflective and active approach to a person's own development as an increasingly skillful teacher. Action research consists of the following steps: 1) Input, 2) Planning, 3) Action, 4) Reflection, 5) Revision, 6) Repeat. The power of action research lies in its recursive nature. Repeating the cycle lets you build on previously gained insights and improvements, rather than lurching from one new idea to another. Action research also helps you to document the steps in improving your students' learning. This documentation allows you to explain, and show the worth of, your research to colleagues and administrators in your own school. It also allows you to share your evolving insights and teaching practices with teaching colleagues elsewhere. This sharing results in the emergence of a community of teachers actively involved in ongoing development of their teaching practices.
(For more information and links about action research in general, please see http://www.scu.edu.au/schools/gcm/ar/whatisar.html)
(Kazuyoshi Sato)

アクションリサーチとは、授業で何かの問題に気づいたら、実態の把握と原因の究明に努め、対策を講じて実践し、結果を検証して解決を目指す授業改善の方法のひとつです。理論からでなく、現場の問題意識から発想するこの手法は、大変効果的であるとされています。(参考「はじめてのアクション・リサーチ」佐野正之(編著)大修館書店)
名古屋外国語大学「英語教員ワークショップ」は、アクションリサーチを実践・研究する目的で結成されたプロジェクトです。現場の中学・高校でアクションリサーチを実践して効果の上がった例が数多く報告されています。
生徒にもっと楽しい授業を提供したい、生徒のやる気を引き出したい、文法をコミュニカティブに教えたい、クラスのテストの点数を上げたい、など、アクションリサーチを実践すれば可能になるでしょう。

(文責 杉浦千早)
---
アクションリサーチ実践集2020 Action Research Report 2020
2020年度のアクションリサーチです。冊子は発行していません。 Action Research Report 2020 is here.
アクションリサーチ実践集2019 Action Research Report 2019
2019年度のアクションリサーチ実践集です。冊子は発行していません。

Action Research Report is here. Paper booklet is not available.
アクションリサーチ実践集2018 Action Research Report 2018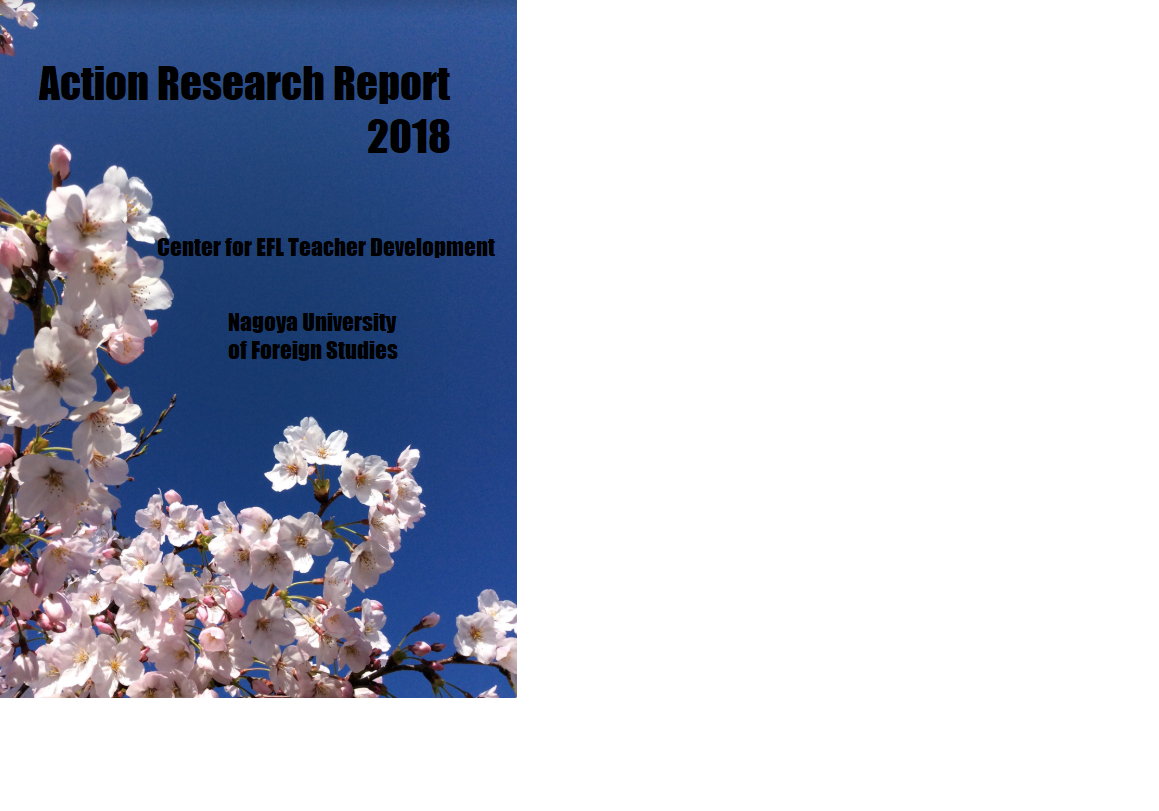 2018年度のアクションリサーチ実践集です。(冊子は発行していません。)

Action Research Report 2018 is here.
「英語の先生 応援マガジン」(アルク特集号)に掲載
「英語の先生 応援マガジン」(アルク)からアクション・リサーチ特集号が出版され、TESOLコースのアクション・リサーチが紹介されました。
アクションリサーチ実践レポート2017 Action Research Report 2017
Action Research Report 2017 (Paper version is not available.)
「ワーク&評価表ですぐに使える!英語授業を変えるパフォーマンス・テスト」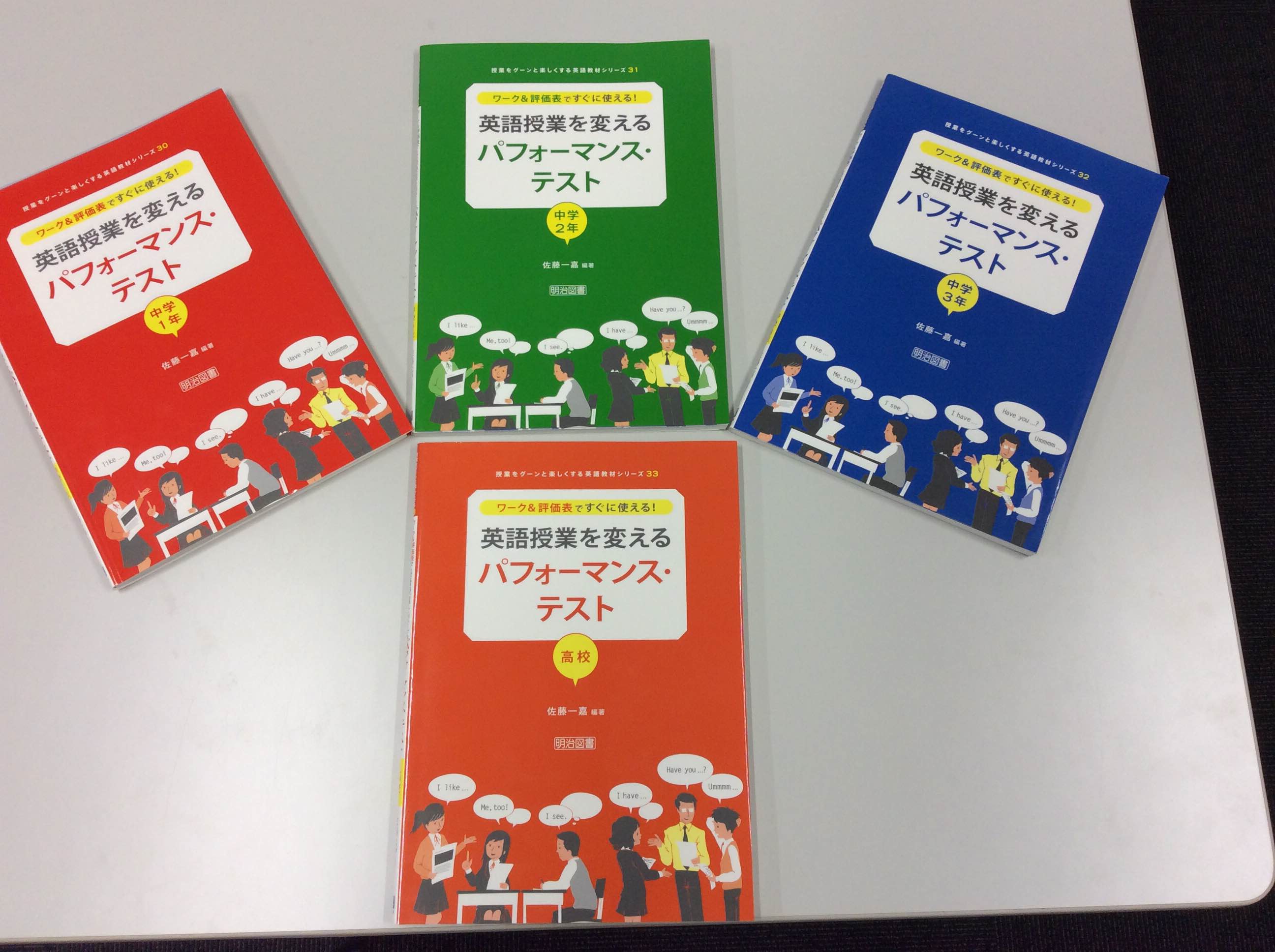 「ワーク&評価表ですぐに使える!英語授業を変えるパフォーマンス・テスト」」(佐藤一嘉編著)が明治図書より出版されています。「中学1年」、「中学2年」、「中学3年」、「高校」の4種類があります。

(本文より)
本書では従来の筆記テスト重視の授業の授業に比べ、教師が授業をコミュニケーションに変え、実施することにより、生徒のモチベーションが上がり、学習効果が高まるパフォーマンス・テストアイデアを紹介している。読者は、教師がどのように授業を変え、それに伴い、生徒がどう変化していったのかについて、アクション・リサーチによる実践報告と具体的なパフォーマンス・テストや評価基準表をもとに学ぶことができる。
「フォーカス・オン・フォームでできる!
    新しい英文法指導アイデアワーク」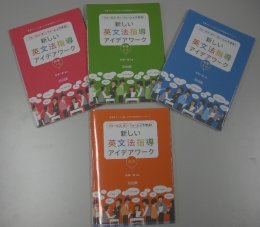 「フォーカス・オン・フォームでできる!新しい英文法指導アイデアワーク」(佐藤一嘉編著)が明治図書より出版されています。「中学1年」、「中学2年」、「中学3年」、「高校」の4種類があります。

(本文より)
コミュニケーション重視の英語教育が学校教育の目標となり、カリキュラム改革、教材開発が少しずつ行われてきているが、文法指導については、従来型のドリルを中心とした暗記・詰め込み式の授業が相変わらず続いている。しかしながら、多くの教師は、定期テストが終わる度に、生徒の文法事項の定着が悪いことを嘆いている。なぜ定着しないのだろうか。もっと効果のある指導法はないのだろうか。そして、文法をコミュニカティブに教えることは可能なのだろうか。これらを解決する指導法がある。それが本書で取り上げた、タスクを使った新しい文法指導:フォーカス・オン・フォームである。
「アクション・リサーチから学ぶ英語教授法シリーズ」(DVD)
「アクション・リサーチから学ぶ英語教授法シリーズ」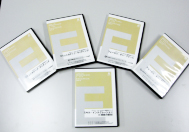 アクション・リサーチから学ぶ
英語教授法シリーズDVD
(ジャパンライム株式会社)
コーディネータである佐藤一嘉教授が監修する「アクション・リサーチから学ぶ英語教授法シリーズ」(ジャパンライム)では以下のDVDが発売されています。

「コミュニカティブ・ライティング ①コミュニカティブ・ライティングの授業案」
「コミュニカティブ・ライティング ②年間計画とアクションリサーチの結果」
「フォーカス・オン・フォーム ①中学校におけるフォーカス・オン・フォームの実践」
「フォーカス・オン・フォーム ②高等学校におけるフォーカス・オン・フォームの実践」
「スキル・インテグレーション(4技能の統合)」
「英語授業を変えるパフォーマンステスト ①中学校におけるパフォーマンス・テストの実践」
「英語授業を変えるパフォーマンステスト ②高等学校におけるパフォーマンス・テストの実践」
---
アクションリサーチ実践報告集2016 Action Research Report 2016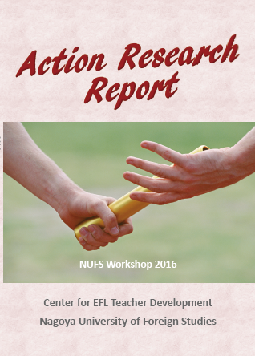 ---
アクションリサーチ実践報告集2009 Action Research Report 2009

アクションリサーチ実践報告集2008 Action Research Report 2008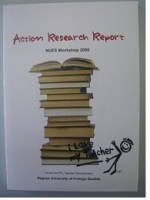 Action Research Report 2008

アクションリサーチ実践報告集2006 Action Research Report 2006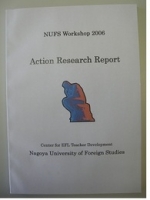 Action Research Report 2006