外国語学部 英米語学科
准教授 ブライアン・マクニール
School of Foreign Studies
Department of British and American Studies
Associate professor Brian McNeill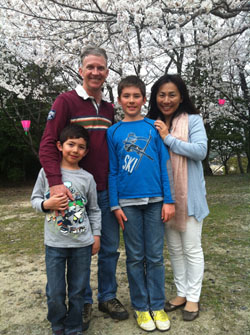 I am very proud to be Canadian, and when you ask me what part of Canada I come from I will answer, "all of it"! That is because I have been very fortunate to live and work in many parts of Canada, and I actually think that "all of it" is my home. I was born in Winnipeg, in the middle of Canada, which is a very cold place with a long, long winter. When I was in junior-high school my family moved to Toronto, so I changed from being "a westerner" to being "an easterner". Part of being Canadian is to understand your heritage, so this was the first step toward me saying, "I am from all of it".

During my years as a student I was very lucky to have summer jobs that took me to many different parts of Canada. I have wonderful memories of eating scallops in Digby, Nova Scotia; of having maple syrup on my pancakes in Grande Mère, Quebec; of the nightlife on Rue de St. Catherines in Montréal; of the mosquitos in the swamps along the Albany River in northern Ontario, of the midnight sun in the Yukon, and of Stanley Park in Vancouver. I was getting more and more to be "from all of it".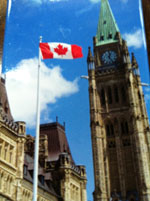 I studied Engineering at the University of Toronto, but I picked the wrong year to graduate, 1982. The world economy was really bad that year, so none of us new graduates got jobs that year. We were cast to the four winds, as they say. I moved to Alberta to take a job in a hotel, and my first job was on the night shift cleaning toilets. Soon I moved up into management and became a conference planner, but I still remember those toilets! If you want to talk about the difficulties of job hunting, have I got some stories for you!
In 1989 I first came to Japan, and I discovered that, first of all, I love Japan, and second, I love to teach. This encouraged me to get a masters degree in Teaching English, and then a PhD in Applied Linguistics. My specialty is teaching writing, and I have enjoyed reading the results of my students' hard efforts for many years.

I have been at NUFS for many years now, and I have been very fortunate to teach a wide variety of classes to both English majors and non-majors. Speaking classes, writing classes, reading classes, Public Speaking classes, Canadian Culture electives, and my favorite – the Canada Seminar. I am always very excited to talk about Canadian history, normally a kind of boring topic but to me it is so fun and so important to explain how Canada got to be Canada in the first place (not to mention how we Canadians are different to our American neighbors). Explaining about Canada helps me to feel that I am still near my home, and I really love to talk about "all of it".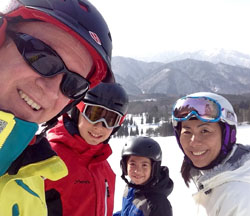 While writing is my specialty, recently my focus is on teaching reading, or more specifically what we can learn from reading short stories. I think it is wonderful to be able to visit a scene in some far off time and place, and experience something that would otherwise be quite impossible for us. Short stories allow us to do that, to see how various characters think and behave in specific situations, and then we can reflect on ourselves and our own lives. In most cases, we can be reminded how lucky we are to live in the 21st century here in Japan.

When I am not at school I am usually busy busy busy somewhere around town. I think that anyone who has taken my class will know and understand that my family, my wife and two boys, are very important to me and I prefer to spend all my time together with them. We love the outdoors, and almost any sport is fine, especially if it involves a BBQ! I have been a skier for at least 45 winters, and I have a true passion for blue sky and a black diamond slope. I have skied in the US, in New Zealand, and in France, but my recent love is for Myoko Kogen. Fantastic skiing!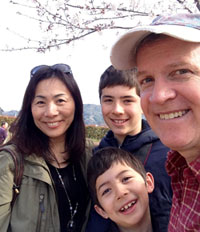 So what can I tell you that is of great importance? Well, you can never be sure that the road of life will be straight and level. There will come many twists and turns, not to mention the forks in the road and having to choose which one to take, but no matter what comes you have to face it all with a sunny disposition and a determination to do your best. Keep close with your family and friends, and remember to live each day to the fullest.